FORMIA showcases a range of sustainable amenity kit products at APEX/IFSA EXPO
If you fly JetBlue between London and New York or Boston, one of the most noticeable things you'll experience as a passenger is the amenity kit in the main cabin.
Made from platinum silicone, a more sustainable version of silicone, the idea is that it is reusable, and not just as an amenity kit. As it is oven, fridge and microwave safe, it can be used for everything from storing food, to carrying around beach toiletries.
The JetBlue kit has been made by FORMIA, with the US airline being one of over 50 working with the amenity kit and cabin products manufacturer.
APEX Media talked to FORMIA marketing director Natalie Solebo and chief customer experience officer Marisa Pitsch, about the airline amenity kit landscape.
The big trend in amenity kits is of course sustainability. One element of that is reusability, so that the kits don't contribute to landfill waste, hence the unique design and versatility of the JetBlue international kits.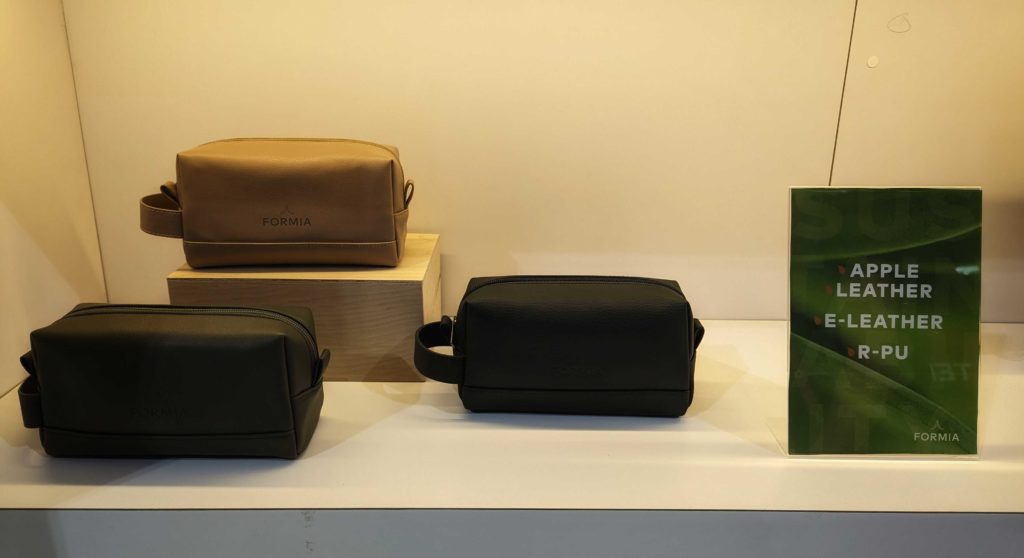 According to Marisa Pitsch, "there is no conversation that's being had where that's (sustainability) not a focus now. Some airlines are way ahead of the market, KLM for example has been doing this for decades, and for other customers who have a way to go, we are here to guide them."
As well as reusability, the other key element is how the kits are made.
At APEX/IFSA EXPO, FORMIA is showcasing a series of amenity kit concepts.
Experimental material includes 'bananatex' and 'pinatex'
These range from ones made from E-Leather, to amenity kits made from more experimental materials including "bananatex" (a fabric made from banana plants) and 'pinatex', a leather alternative made from fibres taken from pineapple leaves.
Perhaps the most interesting amenity kit concept was one made from Social Plastic. This is an NGO which pays people in the Global South to collect plastic waste and hand it in for recycling in exchange for digital credits that can be used for services such as healthcare and education.
Marisa Pitsch told us that there had been airline interest in that particular product, due not only to the recycled plastic element but also because of the very compelling human story behind it.
The storytelling element also comes through in Delta's Someone, Somewhere amenity kit project (a finalist in the APEX/IFSA Awards), where the amenity kits are made by artisans throughout Mexico, and where you can even contact the individual who made your individual kit.
Marisa Pitsch also talked about the collaboration with Rebel, which is helping FORMIA execute its sustainability strategy and "turn all our concepts and dreams into data."
This is important as "otherwise it can be marketing hype and greenwashing. And we recognise how important that is to the airlines as well, that when they tell the story they can also back that up with data and information."
Increased emphasis on wellness
Finally, along with sustainability, there is increasing customer demand for wellness based products in amenity kits.
One example is the collaboration between Diptyque and Qatar Airways. According to Natalie Solebo, the brand is all about fragrances and "taking you on a sensorial experience." As a result, it's "more than just product", it's an out of the ordinary experience that customers appreciate.
FORMIA is at APEX/EXPO on stand 555